General Information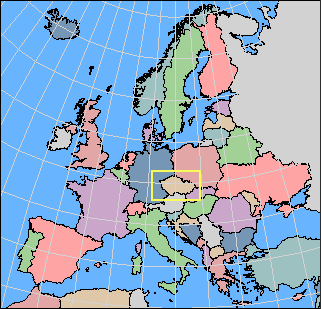 The Czech Republic was established on 1st January 1993 after peaceful dissolution of the Czech and Slovak Federative Republic. The Czech Republic is a landlocked country situated in Central Europe, sharing borders with Germany on the west, Poland on the north, Austria on the south and Slovakia on the east. Total length of borders is 2,303 km. The total area of the Czech Republic is 78,864 square kilometres.
The number of inhabitants has been falling since 1994 due to one of the lowest fertility rates in the world, so in 1998 there lived 10,294 thousands of inhabitants, which makes the average density 130.5 inhabitants per square kilometre. The capital of the Czech Republic is Prague with 1,213 thousands of people. The Czech Republic is a parliamentary democratic country, with a president as its head (Václav Havel since 1993).
Since 1989 the Czech Republic is on the way of privatisation and implementation of open market economy. In 1998, the GDP per capita was 5,480 USD, what was near the level of poorest members of the European Union. Unemployment was very low in past years but in the recent years started to grow to the current 9 %. Inflation has been relatively low through the transformation period (around 10 % per annum) with the exception of the time of currency separation in 1993.
In the primary, agricultural sector employs 7 % of labour force, in secondary, industrial sector it is 39.5 % and 53.5 % of manpower works in the tertiary sector of economy. The Czech Republic has an ethnically homogeneous population with remarkable minorities of Slovaks and Romanies and highly secularised society with 44 % of population listed themselves as believers in the 1991 census (89 % of them were Roman Catholics). Urbanisation is normal with 68 % of the population living in 348 towns. In 1999 the Czech Republic joined NATO and at present it is a serious candidate for EU membership.